VARSITY HOCKEY PROGRAMS AT SCOTIABANK POND

The Varsity Hockey School also runs programs out of the ScotiaBank Pond that are coordinated and delivered by Head Instructor, Brad Bonello.
All programs are run out of the Scotiabank Pond location, located on the Downsview Park grounds at 57 Carl Hall Rd.
Toronto, Ont. M3K 2B6
HEAD INSTRUCTOR BRAD BONELLO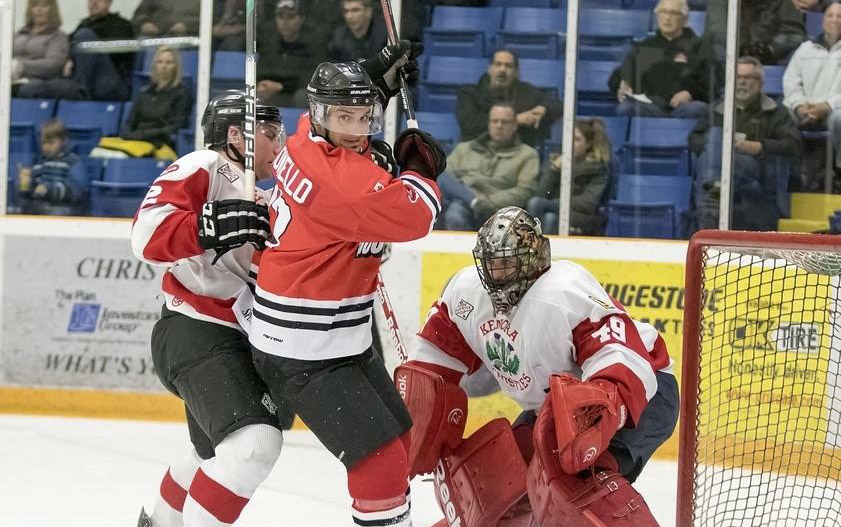 Brad is the Head Instructor at the Varsity Scotiabank location and directs the program coordination and development of young player's skill training.
As a Development Coach, Brad's role is to oversee and monitor the student's training progress and ensure that his Skills Instructor staff is delivering the training format according to the Skate2Dominate Training System.
As a Program Coordinator, he provides direction to students, parents and coaches and guides them towards the best Training Platforms and Formats that will make up the best training plan.
Brad's hard work and hockey skills progressed him to a Pro career that had many playing and coaching highlights:
CAREER HIGHLIGHTS
• DRAFTED 9TH ROUND (181 OVERALL) TO THE ERIE OTTERS OHL
• MEMORIAL CUP CHAMPION 2004/2005
• ACH CHAMPION 2014/2015
• HEAD COACH TORONTO YOUNG NATIONALS
Brad has trained and developed players at all levels including Minor Hockey, Junior, Major Junior, CIS and NCAA. His wealth of knowledge in developing players is only surpassed by his passion to do so.
SCOTIABANK POND PROGRAMS
Shooting Programs (Training Pad)

The SHOOTING program is a One-on-One or Two-on-One session and can be schedule in 30 and 60 minute training.

The lessons will initially involve all aspects of the student's shooting skills to assess the mechanics and balance required to efficiently and effectively release a shot with accuracy.

The progression of weekly lessons would be designed based on the development needs demonstrated by the student with the objective of improving specific Shooting Techniques along with Stick Handling & Deking skills necessary prior to release.

The Private Shooting lesson would address development needs in the following areas:

Shooting Techniques: Wrist shot – Slap shot – Snap shot – Backhand shot – Quick Release

Stick Handling & Deking: Wrist agility – Hand Speed – Puck to Body position – Weight Shift for Balance

BOOKING INFORMATION

Sessions can be customized in 60 min or 30 minute sessions

Sessions can be registered in 5 or 10 Private Lesson packages or on a Pay-As-You-Go booking.

PAYGO sessions are booked based on availability of ice and instructor.

REGISTRATION OPTIONS

30 min PRIVATE (1:1 Ratio):  1 SESSION: $65 – 5 PACK: $300 – 10 PACK: $550

30 min SEMI PRIVATE (1:2 Ratio): 1 SESSION: $170 – 5 PACK: $400 – 10 PACK: $750

60 min PRIVATE (1:1 Ratio): 1 SESSION: $130 – 5 PACK: $625 – 10 PACK: $1,100

60 min SEMI PRIVATE (1:2 Ratio): 1 SESSION: $170 – 5 PACK: $800 – 10 PACK: $1,500

Contact our experienced staff at 905-874-8418 ext 2 or email brad@varsityhockey.com to inquire about booking your PAYGO private session PRE-REGISTERED packages

Private Sessions (Rink Ice)

The PRIVATE sessions program is s offered in various 60 minute Private, Semi-Private and Small Group Sessions and are delivered on Full Rink Ice.

The initial lessons would challenge all aspects of the student's current skill level.

The weekly progression of the lessons would be designed based on the development needs demonstrated by the student in the specific areas of Skating, Stick Handling and Shooting skills that will improve the skill execution and bring consistency to their in game performance

BOOKING INFORMATION

Sessions registered in 60 min minute sessions.

PAYGO sessions are booked based on availability of ice and instructor.

Private rates on rink ice is subject to cost of arena ice at which session is done

Contact our experienced staff at 905-874-8418 ext 2 to inquire about booking your private sessions